Long story short: We made it to the coast.
We woke up in Matt's machine shop and rolled out around 9:30 am.
Our initial plan was to go to McDonald's for breakfast, but we saw the Cornbread Cafe and opted for something local instead. It might be too strong to call this a mistake, but…it was a mistake. All of us missed the clear signs that something was wrong. Very wrong. It was a vegan restaurant. They served us something called "eggfu" and "bacon." It was very Oregon and all, but…should've gone to McDonald's.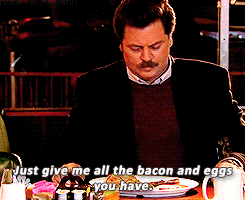 We started in earnest at 10:45 am and burned down the road and over the coastal foothills without a problem. We were doing 18-20 mph for a good stretch.
We got to Florence around 3 pm, having biked 61 miles, and headed for the coast. We went south of town to the dunes and pulled our bikes up the hill. That was harder than the bike ride!